Summer in the State House 
Chris Mesfin spent his summer under the golden dome of the Massachusetts State House, working on policy projects ranging from the creation of a green bank to the development of a statewide building performance standard. Chris's summer climate policy internship, sponsored by the Salata Institute, built on an interest sparked in the green spaces of Columbia, Missouri during the COVID-19 pandemic. After a summer spent deep in the legislative weeds with State Representative Joan Meschino's office, Chris has a deeper understanding of how climate progress is made and a new commitment to building a career in climate and sustainability.
An Interest Forged in Quarantine
When the COVID-19 pandemic struck, Chris Mesfin was in high school. Forced outside by quarantine and boredom, Chris found himself exploring the parks and preserves around Columbia, Missouri. "I started to find a greater appreciation for these spaces and realized that I wanted to get involved in sustaining my local environment," said Chris. "It started with trash pickups, which turned into writing op-eds for my local paper – and now I'm at Harvard, exploring the different ways I can build a career that makes a difference for climate change and the environment."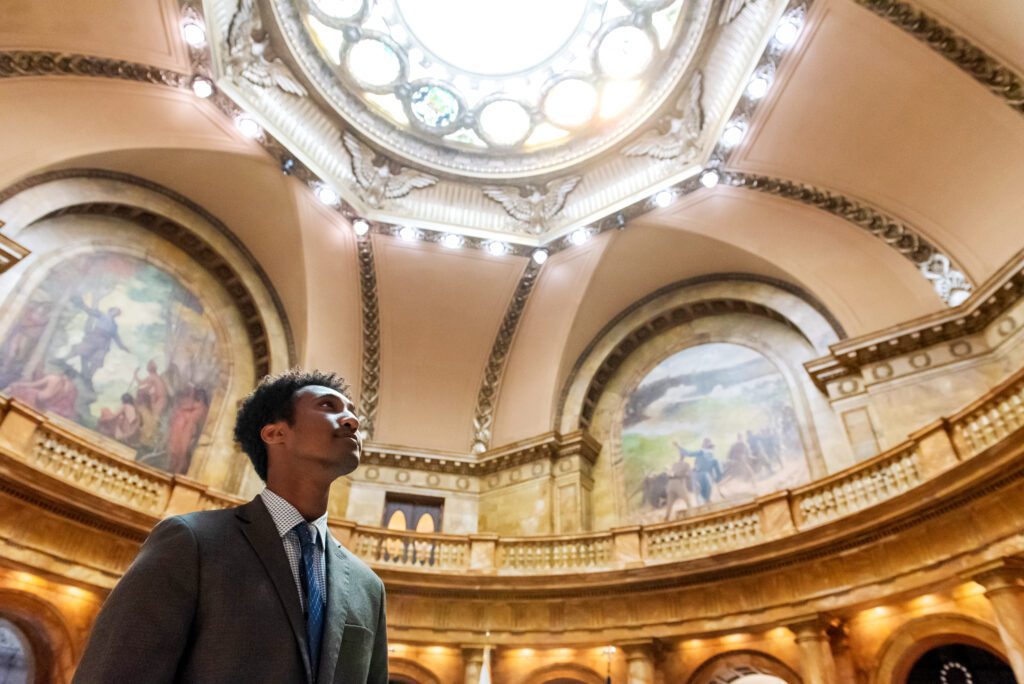 When he joined the Harvard College Class of 2026, Chris set out looking for courses, clubs – anything he could find that might help him prepare for a career devoted to climate and sustainability. When the Salata Institute announced a Climate Policy Summer Internship Pilot Program in April 2023, Chris applied, eager to explore climate policy outside of the classroom. "I wanted to go beyond the case studies I had reviewed in class and really see how climate policy progresses in a legislature," said Chris. An internship in the Massachusetts Legislature felt like the perfect opportunity to do just that. "Massachusetts is so often at the fore on climate policy," said Chris.
Life as a State House Intern
Each weekday this summer, Chris boarded the Red Line at Harvard Square and rode to Park Street, stepping off the T and joining the throng of state officials and staffers powering uphill towards the State House. Once through security, Chris would head to the West Wing and his desk in Representative Joan Meschino's office. Mornings brought conversations with Rep. Meschino's Chief of Staff about the day's events, often followed by briefings or hearings for the Representative's initiatives and committees, including the Zero Waste Caucus and the Joint Committee on Telecommunications, Utilities, and Energy. In the afternoons, Chris would often steal away to the relative quiet of the State House Library, where he spent hours poring over bill texts, reading and editing testimony, and setting up meetings to hear from stakeholders.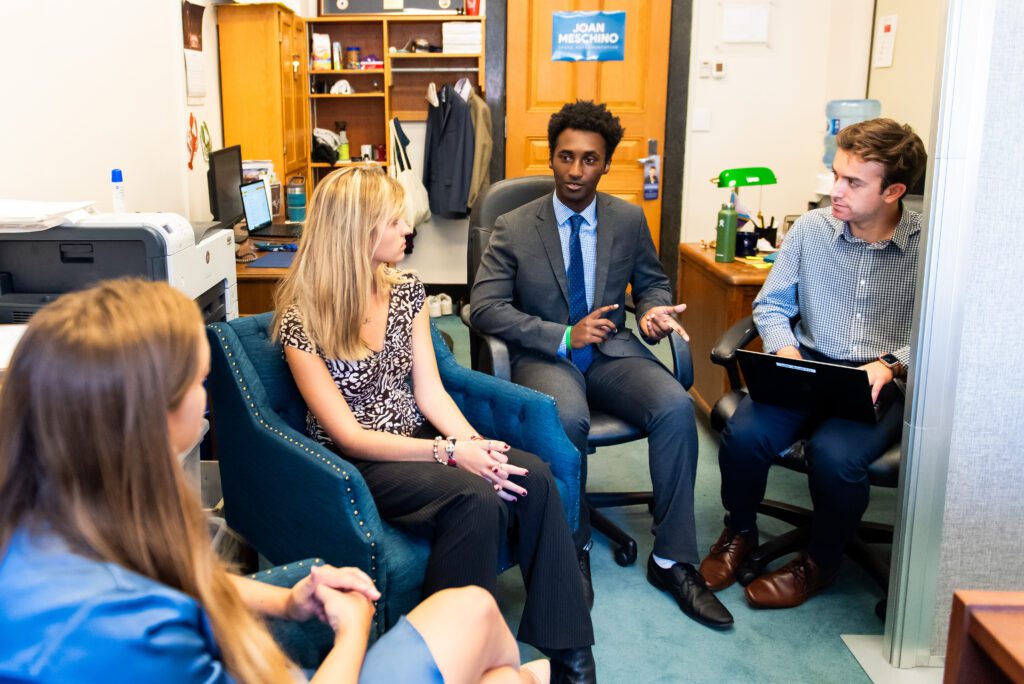 Rep. Meschino, who represents Plymouth's third district in the Massachusetts Legislature, tasked Chris with two core projects and a wide range of work in support of her climate and sustainability priorities. First, Chris tackled a policy memo for the Representative comparing various proposals for Green Banks. Chris analyzed bill texts, scoured testimony from state legislatures across the U.S., and kept tabs on the relevant Inflation Reduction Act provisions.  
Next, Chris got to work drafting a bill which would create a Statewide Building Performance Standard for the State of Massachusetts to reduce the carbon emissions associated with constructing and operating buildings statewide. "In Massachusetts, on-site combustion of fossil fuels in residential and commercial buildings accounts for 27% of all statewide emissions, making decarbonization of the building sector necessary for Massachusetts to reach its climate goals," said Chris. While only a few states have enacted these policies, including Washington, Colorado, and Oregon, Chris found inspiration for the bill in local policies, including those of Boston and Cambridge. He also spoke with experts in building decarbonization from the state government and outside stakeholder groups.  
A Culture of Collaboration
For Chris, the biggest surprise that came with working in the State House was the emphasis on relationship-building and connection. "There is an immense amount of collaboration within the State House," said Chris. "Building relationships is a priority for everyone – and the work done together is so much more effective." For Chris, that meant joining meetings with the teams of other representatives, talking with experts from within and without government about his policy projects, and attending intern speaker series events to forge connections with colleagues from around the State House.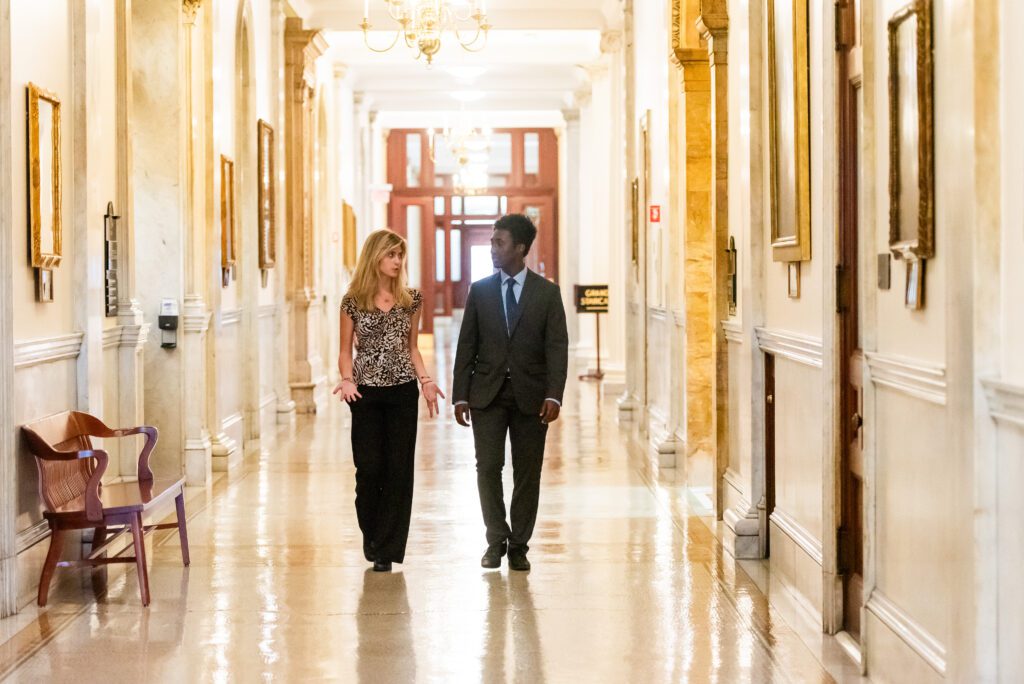 Advice for Students Looking to Get Involved
Chris hopes other students will cast a wide net for opportunities, like he did, as they consider pursuing careers in climate and sustainability. "It might sound cliché, but just dive right in and get a sample of everything that you can," said Chris. "That doesn't mean only searching for opportunities in the federal or state governments, but also looking for opportunities in local government." More than anything, Chris hopes others can benefit from the lessons in relationship-building that he took away from the State House. "Meet as many people as possible," said Chris. "People in the environmental space are some of the most kind and passionate people and are always willing to tell you about their work and how you can help."
Are you a Harvard Undergraduate or Graduate student interested in opportunities like the Climate Policy Summer Internship Pilot Program? Sign up for the Salata Institute email list below to stay informed about this and other opportunities for climate- and sustainability-interested students: