Celebrating the First Cohort of Harvard's Climate Justice Design Fellowship
The Fellows, supported by the Salata Institute, designed and built data tools that will strengthen the pursuit of equity and justice in communities across the United States.
What can you learn about Afrofuturism on a walking tour of Harlem?
What can historical redlining teach us about how to distribute flood insurance equitably today?
What are the real effects of heat domes, causing extreme temperatures, on Oregon residents?
In six short months, the fellows of the Climate Justice Design Fellowship (CJDF) sought to address these questions and many more. Their work has demonstrated the real world impacts that can be achieved when researchers and civic leaders work together to support communities.
These are just a few of the projects presented on Wednesday, January 11th, when the seven fellows of the CJDF convened to celebrate their work and share their insights about–and tools to support–environmental justice with the broader public. They presented their work at a virtual showcase event hosted by the Leventhal Map & Education Center at the Boston Public Library.
Supported by the Salata Institute and hosted by the Institute for Quantitative Social Science, CJDF is a pilot project of Harvard's Data+Climate Initiative. Its mission is to empower environmental justice advocates and public servants from around the United States to design and build accessible data tools that help them promote equity and justice in their communities.
Below are vignettes of the fellows and their projects.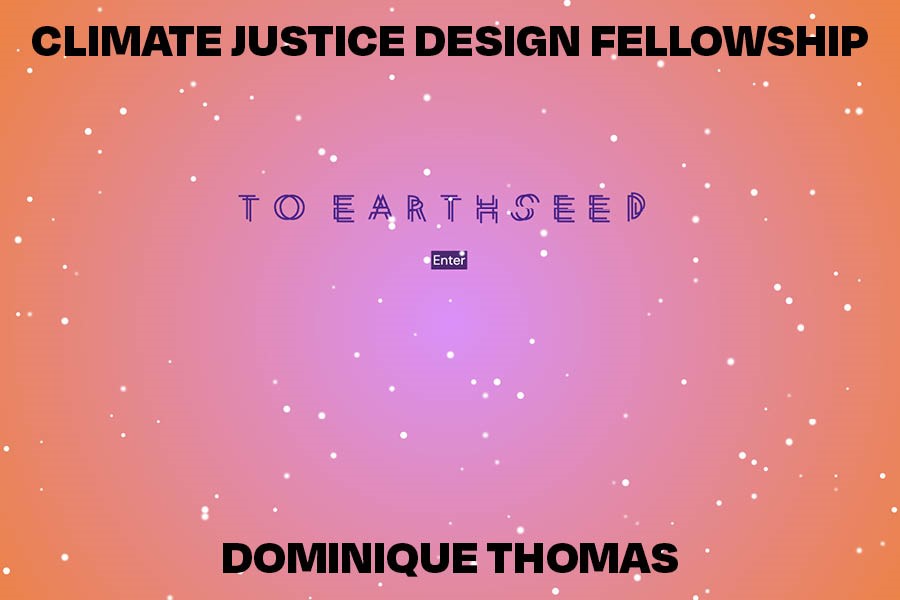 To Earth Seed
Dominique Thomas
This project explores the lived experience of Black people living in Harlem, how they engage with their natural environment and physical space and what visions they have for the future. From these visions, we hope to begin to build out an oral and organizing orientation to build power and take sustained action in climate. My work combines Black Feminist Ecological and Afro-futurist praxis to consider what climate reparation may look like in Harlem and how these praxes can help build the necessary community power to win a climate future grounded in abolition.
Rooting Storms: Remembering What Remains
Jacqueline Thanh
Rooting Storms: Remembering What Remains re-imagines Community Power during rapidly increasing Climate Crises and ongoing Environmental Racism through Storytelling to bring forth Data Equity and Advocacy. Rooting Storms serves as a living breathing archive that seeks to make visible the invisible experiences, labor, and displacement that generations of Asian American Pacific Islanders continue to experience in Greater New Orleans and the Gulf South.
The Story of Hazardous Waste, Schools, and Environmental Justice in California
Idalmis Vaquero
The Story of Hazardous Waste, Schools, and Environmental Justice in California uses custom-developed maps to understand the proximity of hazardous waste facilities and cleanup sites to schools. It is a tool designed to support policy change in California.
Schools Need Trees
Laura Robinson
Schools Need Trees analyzes existing tree canopy on school sites in relation to student access and parcel size in a Maryland public school system. It provides resources for school communities and school administrators to increase canopy and amplify benefits at both the individual school and system-wide levels.
Canopy of Stories
J'reyesha Brannon
The goal of this project is to pair qualitative data, community stories and feedback, with quantitative data and visually present how climate change impacts our frontline communities in Multnomah County, Oregon. Too often we see headlines and studies presenting 'disproportionate' impacts on Black/brown and low income communities, but that work is often missing the personalization and community voices of those most impacted – in a vacuum of academia or government. This project aims to show the importance of qualitative data in the form of community stories and how it creates a fuller picture of how climate change affects people in relation to the decreasing tree canopy, rising temperatures, and the resources needed.
Understanding 'Blue-lining': From Concept to a Working Definition Developed for Disadvantaged Communities and Communities of Color
Carlos Claussell
Understanding 'Blue-lining' is a project that uses an equity lens to examine 'Blue-lining' as a concept and assess its multi-layers to develop the 'right' definition that responds to the needs of disadvantaged communities and communities of color by understanding how race and ethnicity plays a role in the institutional response to the climate threat.
The State of Environmental Justice Screening Tools: Improving Cumulative Impacts Methods with the Cultural Ecosystem Services Model
Alexa White
Stories about Environmental Justice are often told site by site, disaster by disaster. What we could integrate impacts on communities across time and space to measure the total burden left by inequity? Using New Jersey's EJMAP tool, we constructed a new layer for addressing cumulative impacts to serve as a model for state and national EJ screening tools. Users will be able to project and develop solutions to injustices using this layer which identifies relevant cultural ecosystem service constituents.
You can follow the Fellowship program on Twitter @ClimateFellow and Instagram @climatefellowship and contact its leaders at climatejusticedesignfellowship@gmail.com. Visit the Fellowship website for more information.