The Challenge of Aligning Interests in Pennsylvania Methane Cleanup
A climate research workshop hosted by the Salata Institute explored solutions to the problem of abandoned oil and gas wells in Pennsylvania and beyond.
There is little debate that the half million leaky, abandoned gas wells scattered across western Pennsylvania should be sealed. The aging taps are responsible for up to 10 percent of Pennsylvania's methane emissions, while polluting the local air and water — a legacy of both the recent fracking boom and Pennsylvania's role as one of America's earliest sources of fossil fuels.
The challenge is money, and who should pay. Capping a well costs tens of thousands of dollars — and in rare cases up to $800,000.
"Pouring concrete down the hole doesn't necessarily solve the problem," said Dustin Tingley, professor of government in Harvard's Faculty of Arts and Sciences, during a Sept. 7 climate research workshop, "Regulatory Approaches to Abandoned Wells in Southwest Pennsylvania and Beyond," hosted by the Salata Institute for Climate and Sustainability. Faculty and students had gathered to explore a knotty problem of political economy by simulating a meeting of the stakeholders critical to regulatory reform.
Methane traps 25 times more heat in the atmosphere than carbon dioxide. But because this potent greenhouse gas has a much shorter half-life, a cut in methane emissions can have a quick effect, reducing the magnitude of climate change and giving the world time to "bend the curve" on CO2 emissions. The problem is vast: Including Pennsylvania, there are up to 3 million abandoned and orphaned wells dotting the United States.
The state has a program to plug the wells, using funds from local impact fees paid by gas companies and federal dollars included in the 2021 Infrastructure Investment and Jobs Act. Yet so far, only a few dozen have been sealed; until this summer, only three state inspectors were dedicated to the project. At the current rate, Tingley estimates, the effort will take 1,600 years.
At the research workshop, Tingley, with Stephen Ansolabehere, Harvard's Frank G. Thompson Professor of Government, and Carrie Jenks, Executive Director of the Environmental & Energy Law Program at Harvard Law School, asked participants to place themselves in the shoes of groups touched by the problem: industry leaders, residents, regulators, political leaders, and civil society — from environmental activists to union leaders. Negotiations trainers see simulations such as this one as key in preparing to convene groups with divergent interests.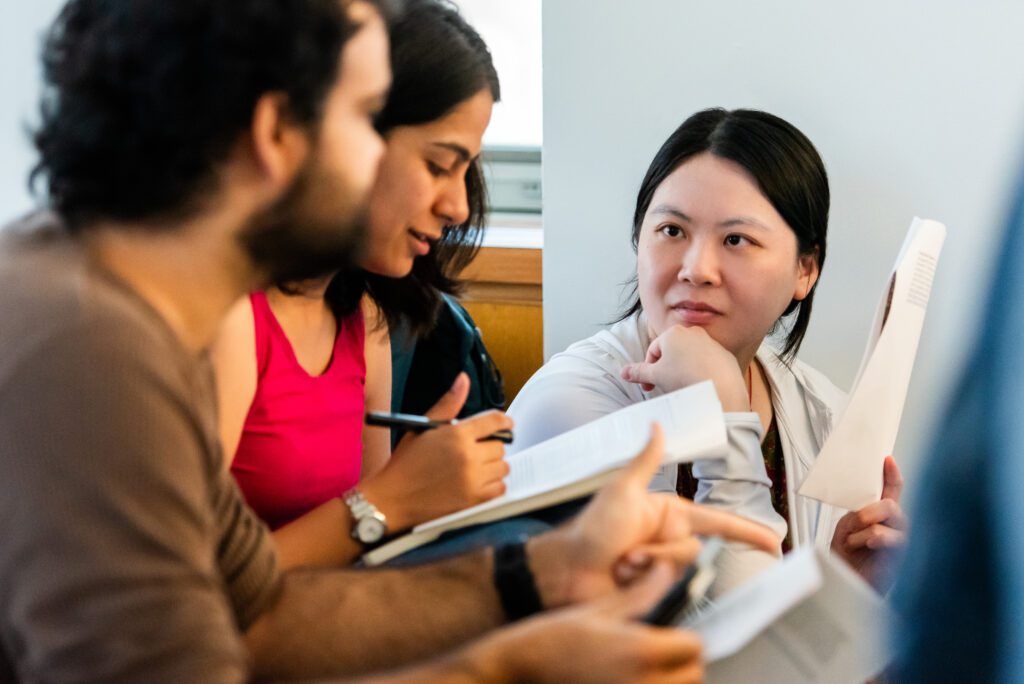 Participants debated increasing the price of bonds that gas extractors must purchase before being allowed to drill; a bond is designed to ensure clean-up — it can only be cashed out after a firm properly remediates and caps the well. But, Jenks showed, the bond prices in Pennsylvania are far lower than similar wells in other gas-producing states: $2,500 for a conventional well compared to $15,000 in Louisiana and $30,000 in Wyoming. "When you compare Pennsylvania's bonding requirements to other states' and see that Pennsylvania estimates that it costs $33,000 to plug one well in the state, and complications can increase that price significantly, it is clear that the state lacks the regulatory and financial drivers to ensure companies plug their wells rather than abandon them," Jenks said.
The simulation, run by the Salata Institute Initiative to Reduce Global Methane Emissions, demonstrated the kind of challenges that lay ahead.
For Tingley, watching these thorny dynamics play out in the workshop highlighted a potential compromise through bond prices. Higher-priced bonds do not scare the larger companies, Tingley noted, but are a barrier to entry for uncapitalized firms — allowing industry lobbyists to argue that the bonds will kill jobs. "Maybe that's the place to find a bargain solution: a pool of funds that could help the 'mom and pop' operators," said Tingley.
In the coming year, the Initiative to Reduce Global Methane Emissions will convene Pennsylvanian stakeholders to explore such solutions and open dialogues that lead to progress.