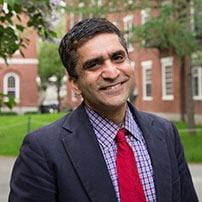 Rakesh Khurana
Danoff Dean of Harvard College and Professor of Sociology and Organizational Behavior
Rakesh Khurana, professor of sociology and organizational behavior at Harvard University and former Faculty Dean of Cabot House, became Danoff Dean of Harvard College on July 1, 2014.
Khurana received his B.S. from Cornell University, and began graduate studies at Harvard in 1993, earning his Ph.D. in 1998 through a joint program between Harvard Business School (HBS) and the Graduate School of Arts and Sciences (GSAS).
The Salata Institute
The Salata Institute supports interdisciplinary research that leads to real-world action, including high-risk/high-reward projects by researchers already working in the climate area and new endeavors that make it easier for Harvard scholars, who have not worked on climate problems, to do so.