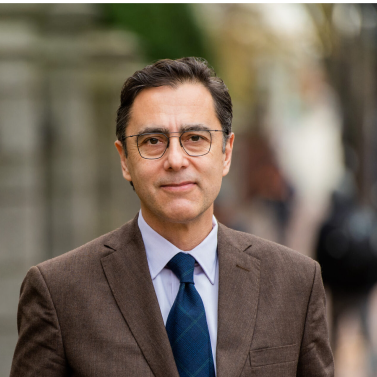 George Sarrinikolaou
Executive Director
George Sarrinikolaou is the first Executive Director of the Salata Institute for Climate and Sustainability at Harvard University and Assistant Provost for Climate and Sustainability. He brings deep knowledge of climate change and sustainability issues to these positions, as well as extensive experience in management and administration.
Before joining Harvard, he served for a decade as Director of the Office of Academic and Research Programs at the Earth Institute, Columbia University. In that position, he oversaw several graduate and undergraduate sustainability degree and co-curricular programs, implemented programs that supported the Earth Institute's interdisciplinary research enterprise, and staffed the Earth Institute faculty, the Institute's governance body.
He previously worked at the Institute for Sustainable Communities, where he managed the Climate Leadership Academy, a peer-to-peer capacity building program for hundreds of urban sustainability directors in the United States. He began his sustainability career at The Port Authority of New York & New Jersey just before 9/11, where he became the Authority's first sustainability manager and developed the Authority's sustainability policy. His achievements in that position include conducting the Authority's first greenhouse gas emissions inventory, which included the vehicles, ships, and airplanes using the Authority's facilities; leading the first climate risk assessment of the Authority's infrastructure; and making a $1M purchase of high-quality carbon offsets.
He is the author of "Facing Athens: Encounters with the Modern City." He has also written for the New York Times and NY1, and reported for CNN and Public Radio International.
He holds a B.A. cum laude in English from Cornell University, as well as an MPA in Environmental Policy and an M.A. in English from Columbia University.
The Salata Institute
The Salata Institute supports interdisciplinary research that leads to real-world action, including high-risk/high-reward projects by researchers already working in the climate area and new endeavors that make it easier for Harvard scholars, who have not worked on climate problems, to do so.