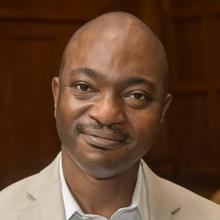 Emmanuel Akyeampong
Ellen Gurney Professor of History and Professor of African and African American Studies, Faculty of Arts and Sciences
Professor Akyeampong joined the History faculty at Harvard upon receiving his Ph.D. in African History from the University of Virginia in 1993. He received his master's degree at Wake Forest University in North Carolina in 1989, where he concentrated on English labor history, and his bachelor's degree in History and Religions from the University of Ghana at Legon in 1984. 
Professor Akyeampong's publications include Themes in West Africa's History (2005), which he edited; Independent Africa: The First Generation of Nation Builders (2023); Between the Sea and the Lagoon: An Eco-Social History of the Anlo of Southeastern Ghana, 1850 to Recent Times (2001); Drink, Power and Cultural Change: A Social History of Alcohol in Ghana, c. 1800 to Present Times (1996). He was a co-chief editor with Henry Louis Gates, Jr., for the Dictionary of African Biography, 6 Vols. (2012).  
Professor Akyeampong has been awarded several research fellowships, and from 1993 to 1994, he was the Zora Neale Hurston Fellow at the Institute for Advanced Study and Research in the African Humanities at Northwestern University. He was named a Corresponding Fellow of the Royal Historical Society in 2002, and was nominated to be a Fellow of the Ghana Academy of Arts and Sciences. In 2018 he was awarded an honorary Doctor of Laws by the University of Ghana. At Harvard, Professor Akyeampong is a faculty associate for the Weatherhead Center for International Affairs and a member of the executive committee of the Hutchins Center. As a former chair of the Committee on African Studies, he has been instrumental, along with Professor Gates, in creating the Department of African and African American Studies. He currently serves as the Oppenheimer Faculty Director of the Center for African Studies. 
The Salata Institute
The Salata Institute supports interdisciplinary research that leads to real-world action, including high-risk/high-reward projects by researchers already working in the climate area and new endeavors that make it easier for Harvard scholars, who have not worked on climate problems, to do so.