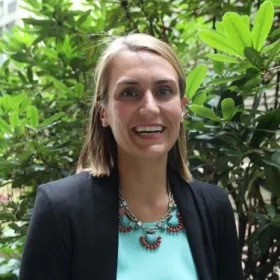 Courtney Fairbrother
Associate Director
Courtney manages student and alumni engagement and creates networks and opportunities that encourage these groups to address climate change. She also oversees the implementation of infrastructure supporting increased career and entrepreneurial opportunities for students. Prior to joining the BEI team, Courtney worked for Harvard's Office for Sustainability as the Sustainability Manager for HBS where she was responsible for engaging students, staff, and faculty in sustainability initiatives across the HBS campus. Prior to working at Harvard, Courtney worked in both the private and public sector on renewable energy policy, implementation, and development for agencies such as the Massachusetts Water Resource Authority and Rocky Mountain Institute.
The Salata Institute
The Salata Institute supports interdisciplinary research that leads to real-world action, including high-risk/high-reward projects by researchers already working in the climate area and new endeavors that make it easier for Harvard scholars, who have not worked on climate problems, to do so.